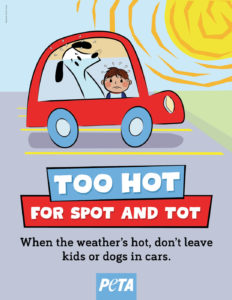 It's that time of year again when we ride with our windows down and our best friends by our sides. We ride around with the wind blowing through your hair and their ears. Although a great time of the year,  it can also be a dangerous time for your best friends. Pet owners often fall victim to the "quick stop" mentality, where they find themselves running into the store or making a quick detour on their way home. As many public places don't allow pets inside, many times Fido finds himself left in sitting in the heat of the car.
We often rationalize this action by telling ourselves its only for a couple minutes, the car won't get that hot that fast. Yet, every year PETA receives reports of dogs and cats who have died while being left in the car during the summer months. In 2018 alone, PETA received 58 heat-related death reports, while many have likely gone unreported.
North Carolina law prohibits any person from leaving an animal confined in a car when dangerous conditions are present. By "dangerous conditions" the North Carolina law is referring to "conditions that are likely to cause suffering, injury, or death to the animal due to heat, cold, lack of adequate ventilation, or under other endangering conditions." Individuals who are found to have left their animal in their vehicle under dangerous conditions could face charges for animal cruelty (a Class 1 misdemeanor).
So, next time you go for a ride it may be best to leave man's best friend at home or bring someone who can keep the car running for your pet while you are out. Just remember, when your pet is in the car: nothing can be greater than waiting till later! If your pet is in the car, wait to run errands until you can drop your best friend off at home!
Also, don't forget that man's best friend can't speak for themselves! So if you see a pet in a hot car: call 911, attempt to locate the owner, and write down any identifying information pertaining to the vehicle/driver. However, do not break the window as North Carolina only permits law enforcement, firefighters, or rescue squad workers who have probable cause that an animal is confined in a car is in unsafe conditions to enter the vehicle by any reasonable measures (including breaking the window).
Reminder: